Services we provide can be divided by the method and place of additivation. Injection can be performed in-line during operations or directly into cargo tanks. Locations of injection can vary from oil terminals to transit pipe lines and on board the vessels at port or during voyage.
IN-LINE DOPING
During cargo transfer from terminal to ship or during ship to ship operations chemicals are injected into the cargo line. This method provides the best mix of additives with cargo and as a result the best homogeneity IS achieved.
DIRECT INJECTION TO TANK / ON BOARD THE VESSEL
Injection can be performed directly in to the cargo tanks whether at the terminal or on board the vessel. If on board the vessel the additives can be applied in port, at anchorage or during the voyage both in closed or open cycle.
TREATMENT ON REFINERIES
Treatment operations at refineries can be performed during different stages of production. Both crude and finished products can be treated to improve cargo parameters, safety and handling.
HEALTH AND SAFETY
Compliance with Health and Safety requirements is of the utmost importance to us. To ensure we are protecting the health and safety of our employees and communities while minimizing the impact on environment, we are always ready to undertake immediate operations even during extreme conditions.
TANKER LOADING / DISCHARGING
This is an area where Superintendents are particularly in demand. Ships staff are often recruited from many different areas of the world and in various cases, experience has been lacking on their part.
FUMIGATION SERVICES
Cargo Treatment Services provide and offer fumigation services to the market…
Fumigation is a pest control method that is executed by using pesticide gases (fumigants) to exterminate pests within an enclosed space. CTS specialize in fumigation and degassing of agricultural commodities on a ship, in a store/silo or in freight containers. Our licensed specialists ensure fumigants used safely and in compliance with legislation and industry best practices during operations on board the vessels, at storage facilities and transit means and terminals.
Fumigation certificate or Gas free certificate along with full set of additional documentation is issued at a time of operation in order to fully comply with client, local regulation, customs requirements.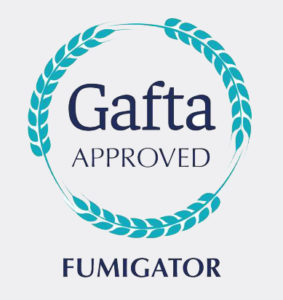 Our priority is safety, effectiveness.
Cargo Treatment Services is a GAFTA Approved Fumigator and complies with the "The GAFTA Standard for Fumigation".  The GAFTA Standard is an independently audited scheme designed to maintain and improve the level of competence of activities related to the trade of agricultural commodities, animal feed materials, pulses, rice, spices and general produce worldwide.